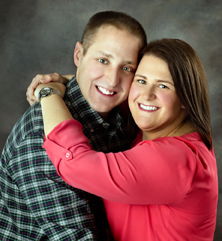 Miss Carly Roberts and Mr. Michael Goedeker, both of Willoughby, OH are announcing their engagement and upcoming wedding to be held on Sat., Nov. 5, 2016 at St. Dominic's Church in Youngstown. Invitations to follow. A reception will be held at the Maronite Center in Youngstown.
The future bride is the daughter of Larry and Nancy Roberts of Boardman.
The prospective groom is the son of Mike and Dona Goedeker of Monaca, PA.
Miss Roberts is a graduate of Youngstown State University with a degree in Accounting. She is currently attending the University of Akron pursuing a Masters of Tax degree. Carly is a CPA and Supervisor at Pease & Associates, CPAs in Cleveland.
Mr. Goedeker is a graduate of La Roche College with a degree in Chemistry. He is currently attending Cleveland State University pursuing an MBA in Finance. Michael is a manager at Global Chemical Inventories for the Sherwin Williams Co., in Cleveland.