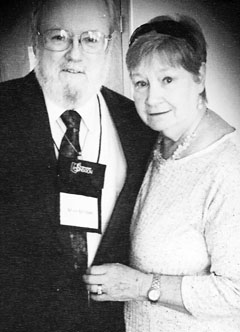 Rev. Michael & Sue (Sheldon) McHale will be celebrating their Golden Wedding Anniversary on June 20, 2020. They were married at Wesley Memorial United Methodist (which became Lockwood UMC) by the Rev. Burton Cantrell. A reception followed at the brides parents home on Mac-a-chee Dr.
The couple were married their junior year at Asbury College, Wilmore, Ky.
Michael graduated and then received his Masters of Divinity from the Methodist Theological School of Ohio. "Rev." Mike" as he was known also was a certified EMT-A. and served as a volunteer on different squads. While in Amherst, Ohio, he was Chaplain of the Police and Fire Dept, and was surprised to receive an Accommodation from the Ohio State Senate for his service to the Amherst Community. Rev. Mike also formed the First, First Aid Station at the yearly EOC Conferences Summer meeting held at Lakeside, Ohio.
Sue also received her Ohio State Teaching license and enjoyed many good times and her students loved her greatly.
The Bishop of the East Ohio Conf. of the UMC, appointed Rev. Mike to serve as the pastor of the Lockwood Church, completing a circle of service. This was the church Sue grew up in, was married in and knew it would be his last appointment before his retirement after 41 years of the Lord's Service. We were blessed to meet so many wonderful friends over our lifetime.
Two son's were born, and quickly became "preachers kids". Michael J. Jr. of Orrville, and Matthew & Deana and their son Cole Matthew McHale, of Kidron, Oh., complete their family. Cole age 2 is the sunshine of their lives. There was a move to Orrville three years ago after Mike's retirement to be closer to their sons.
A Celebration of this Golden 50th, and Father's Day will be held in Canton, followed by a family visit to Put-in-Bay for a few days.