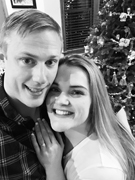 Dr. Keith and Sheila Henson wish to announce the engagement of their daughter, Dr. Catherine Henson to Dr. Zachary Geiger.
Dr. Geiger is the son of Debbie and Tim Geiger, Clinton, Iowa.
Dr. Henson is a pediatrician for Akron Children's Hospital in Austintown. She is a graduate of NEOMED and completed her pediatric residency at Children's Hospital Akron, Ohio.
Dr. Geiger is completing his head and neck surgical residency at Western Reserve Care System in Cuyahoga Falls, Ohio. He is a graduate of Des Moines University School of Osteopathic Medicine.
They are planning an August wedding at St. Michael's Parish in Canfield.