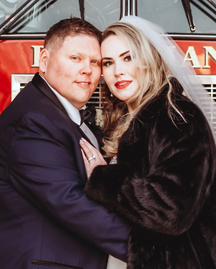 Lauren E. McIntosh and Stephen R. Patrick were married February 26, 2022, at Saint Christine Roman Catholic Church in Youngstown with the Father John Jerek officiating.
Musical prelude and recessional were performed by the Steele Valley Pipes & Drums. Both the piano and organ music were provided by Mr. Ron Goulish.
The bridal couple's mothers advanced to 'Ava Maria' by Bach. The bridal party and bride progressed to 'Canon in D' by Pachelbel.
The bride is the daughter of Bart and Tammie McIntosh, of Newell, West Va. She is the granddaughter of the late Bart and Edith McIntosh of Newell, and late Dr. K.W and Peg Turner of East Liverpool, Oh.
Lauren is a graduate of Robert Morris University with a Doctor of Nursing Practice and is a Board-Certified Family Nurse Practitioner. She is employed as a Registered Nurse Manager by Mercy Health/Austintown Medical Center.
The groom is the son of Stephen and Beth Patrick, of Canfield. He is the grandson of the late Stephen and Sophie Patrick of Youngstown, and Martha Blank and the late Robert Blank of Warren, Oh. Bobby is employed as Firefighter II EMT-B by the Boardman Township Fire Department, and is the owner of S. Patrick C&E Inc. He is also a Fire Instructor at Howland Fire Department Training Center.
The bride was escorted by her father. She wore an ivory silk gown with an ornate bodice and sleeves trimmed with crystal beads and lace. Her gown was accentuated with a cathedral length veil trimmed with crystals. She carried a bouquet of white roses and Calla lilies.
The matron of honor was Brittney Moist, best friend of the bride. Bridesmaids were Alexandra Hauser, Amy Payne, Jamie Boyle, friends of the bride, and Alyssa Patrick, friend, and sister-in-law of the groom. Charlie Payne served as flower girl.
The groom's party included best man Sean Patrick, brother of the groom and groomsmen Jason Glista, Mark Pitzer, Travis Hemphill, Andy Garris and Shawn Fiffick, friends of the groom as well as Mac Blank, cousin of the groom. Rowan Patrick, nephew of the groom, served as ring bearer.
A reception was held following the wedding ceremony at the Tippecanoe Country Club in Canfield.
After a honeymoon trip to Florida, the couple is residing in Canfield, Oh.